"The winner of the 38th edition of the Rotterdam Entrepreneur Award stand out for showing guts, passion and determination," says chairman Ellen van Dam. "When all restaurants had to close their doors in Covid time, Hell's Kitchen set out to grow. This entrepreneur makes a visible contribution to the vibrant metropolis city of Rotterdam."
During a spectacular party evening on 6 June at CarPort Rotterdam, councillor Vincent Karremans presented the prestigious award to Herman Hell of Hell's Kitchen. This evening also saw the presentation of the Nieuwe Heldenprijs and the Mr K.P. van der Mandele Penning. Hell's Kitchen competed against Alphatron Medical and Houweling Group. These three finalists were selected from a record number of entries.
This year, the judges were particularly struck by how the entrepreneurs behind these companies put their own unique stamp on them. "Their expertise, guts, passion and relentless pursuit of improvement are striking and inspiring. Through their formidable leadership qualities, they show that they are true team players, giving their team members the space and opportunity to excel as well.
It was not easy to choose a winner from among these extraordinary candidates." About Herman Hell of Hell's Kitchen, the jury said, "This entrepreneur has built from nothing. He has overcome enormous setbacks, has mastered his craft down to the smallest detail and is able to convey all this in a particularly compelling way."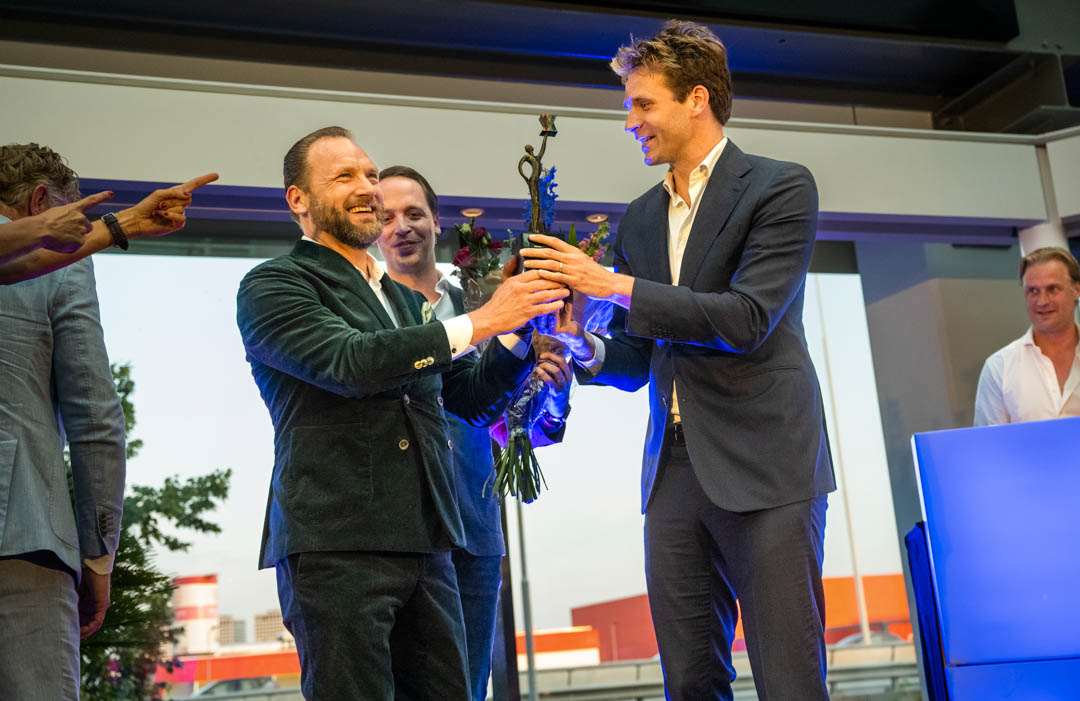 Hell's Kitchen Winner of the Rotterdam Entrepreneur Award
True host for Rotterdam
With twelve leading restaurant locations, Hell's Kitchen is a true host for the city of Rotterdam, according to the jury. The various locations have been carefully chosen based on the 'Local Hero' strategy, where location and symbiosis with the surroundings are of primary importance. Customers here are taken on an experience. "The hospitality operator actively contributes to the vibrant life of the city and works closely with local museums and theatres."
In corona time, he showed guts by swimming against the tide and expanding from 300 to 600 employees. When it seemed impossible to invest, Hell's Kitchen found ways to finance that growth. "Hell's Kitchen intelligently leverages synergies within its businesses in procurement, concept development, automation and staff exchange."
Herman Hell's passion and determination exemplify the hospitality entrepreneur of the future, according to the jury. "His vision, which matches the slogan 'YOU HAVE ONE LIFE MAKE IT COUNT', is an inspiration to everyone in the industry."
Celebrating entrepreneurship
With this election, Rotterdam celebrates entrepreneurship, according to Ellen van Dam. "The three finalists are attentive to their employees, fantastically organised, passionately managed and, each in their own way, have an impact that extends beyond the boundaries of their own companies.
Alphatron Medical is making a major contribution to improving medical care. Hell's Kitchen has a visible vibrant impact on the look and feel of Metropolis Rotterdam. And Houweling Group acts as a powerhouse in the world of circular products. Entrepreneurship is a bumpy road with trial and error. Especially in these times, it is not easy.
This evening, we will show how Rotterdam is getting by. After the Second World War, the city had to be rebuilt from nothing. Now there is a lot of innovation, from startups to multinationals. We can all be proud of that and it should be celebrated. Here in Rotterdam, we know what hard work is and we have a creative and innovative entrepreneurial spirit."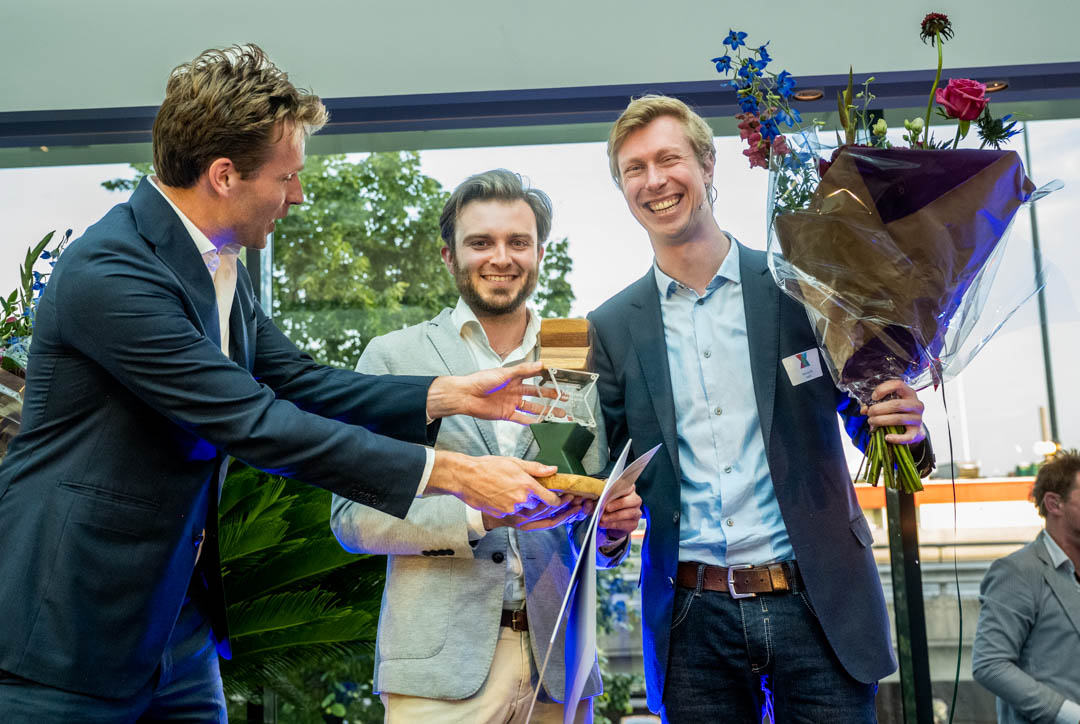 Hardt Hyperloop winner of New Hero award
New Hero Prize winner
Hardt Hyperloop winner of New Hero award
Besides the Rotterdam Entrepreneur Award, the New Heroes Award was also presented. An initiative of VNO-NCW Rotterdam. New Heroes are the accelerators and innovators of our time.
This year, Hardt Hyperloop, Reefy and iKapitein were nominated. They stand out for their great ambitions. After pitches from the three nominees, the public jury chose Hardt Hyperloop as the winner of The New Heroes Award 2023. This company wants to revolutionise transport with a hyperloop.
A hyperloop is a transport system in which a train travels through a vacuum tube. This makes transport more sustainable, safer and faster. How great would it be if the world's first hyperloop pilot could be realised in Rotterdam!
Sabine Biesheuvel receives Mr K.P. van der Mandele Penning
During the evening, the Mr K.P. van der Mandele Penning was also presented. The medal symbolises responsible entrepreneurship. The jury awarded the medal to Sabine Biesheuvel, entrepreneur and co-founder of BlueCity.
"Together with an investor, she managed to transform the derelict swimming paradise Tropicana into a breeding ground for circular businesses and an inspiration for entrepreneurs." It was the 12th time this medal was awarded.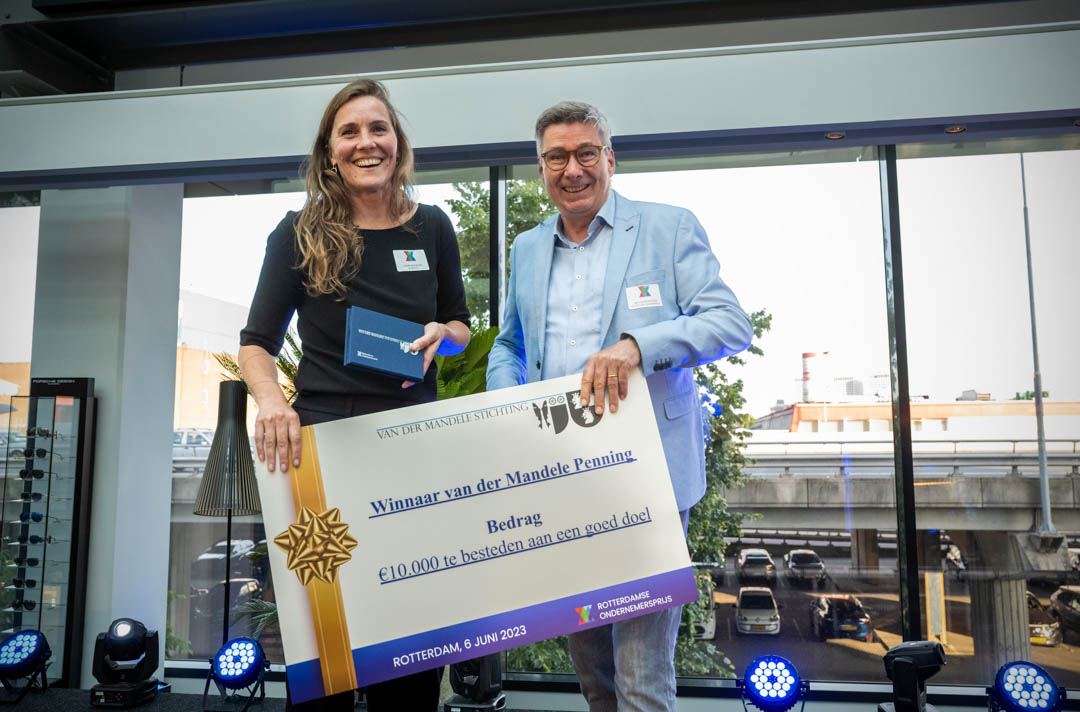 Sabine Biesheuvel
Mr. K.P. van der Mandele Penning
Meet and inspire
Besides the pitches and awards, it was above all a festive evening where entrepreneurs and other invited guests could meet and inspire each other. The evening at the car centre of Porsche, Bentley and Lamborghini brands, started with a VIP reception for all finalists and guests. During the ceremony, various artists provided entertainment and inspiration. Finally, there was a swinging afterparty to celebrate entrepreneurship. Want to re-read that beautiful poem by Amber Rahantoknam that was recited on the night?
You can do that here.